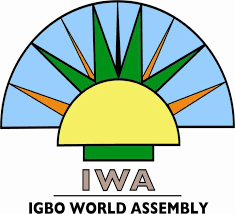 IPOB VS IGBO GOVERNORS' VS OHANAEZE
IWA condemns the Buhari's government in labelling IPOB "a terrorist organization" while leaving the evil herdsmen that are the real killers, murderers, kidnappers and rapists alone. These Fulani herdsmen terrorists who are the real terrorist are treated with kid's gloves by Buhari's government while turning around to hound IPOB members who, as far as we are concerned, are not terrorists, but are freedom fighters agitating for a better deal for their people.
IWA is the Umbrella Organization that represents the Apex National Igbo Organizations (outside Nigeria) in more than thirty-five countries in the various parts of the world such as USA, UK, France, Spain, Finland, Netherlands, Belgium, Ireland, India, Ghana, Mali, Dubai, Pakistan, Germany, Switzerland, South Africa, Russia, Australia, Denmark, Japan, China, Turkey, Italy, Russia, Ukraine, Sweden and Canada.
Dr Nwachukwu Anakwenze
Long Live Ndi Igbo
Long Live IWA
Nwachukwu Anakwenze MD, MPH, MBA
Respectfully,
Dr. Nwachukwu Anakwenze Chairman, IWA
Christian Onuorah Vice Chairman
Oliver Nwankwor Secretary General