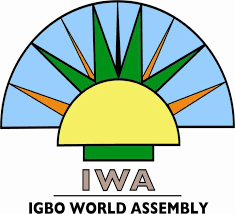 Ndiigbo need to apply what we have always called, "twin principles", meaning old school diplomacy that is deep rooted in synergy (njikoka) and flexibility, collaboration, dialogue and diplomacy removed from Nzogbu Nzogbu(force) strategy that has not always been successful.
We need a diversification of strategies that would allow room for multiple options at all times.
We should always put our "smartest" men and women that are skilled in diplomacy at the helm of Igbo affairs. These men and women must be ready and willing to genuinely represent Igbo interest at the center, Nigerian and World-wide.
We need a wealth of knowledge in understanding of diplomacy and alliance building for the people of the Southeast to form coalitions and alliances with the people of the Southwest, South-South, Middle Belt regions and others.
Because the great Zik and Awo alliance did not work out well in the past, does not mean that we Ndi-igbo and Ndi-Yoruba cannot achieve this alliance today. In the words of the great civil rights leader, Martin Luther King Jr.; the whites need black to free them from their consciences and the blacks need the whites to free them from their bondage. We need each other ( Ndiigbo and Ndiyoruba) to survive in our journeys to justice. At best, the former, late US President Ronald Reagan's policy of "trust but verify" should be the guiding principle. In politics there is no permanent enemies or permanent friends, only permanent interests.
We need multiple options at all times with one common Igbo Agenda that is tied into One Ohanaeze Ndiigbo perspective. We need a Nigeria where measured autonomy and self-determination is front, back and centre. Ohanaeze Ndiigbo should continue with a refocused push for restructuring Nigeria into an independent regional system, allowing freedom fighters, such as IPOB to continue their Biafran struggle in the same fashion that the Oduduwa group is struggling for Oduduwa Republic, independent of other mushroom groups within their struggles.
History has taught us that our journey to justice will not be actualized from one front. Justice, balance and or the proverbial "Igbo Agenda" will not be accomplished through reactionary " tigbue zogbue" only group. Sometimes between " tigbue zogbue" and diplomacy the answer emerges.
As far as our political direction goes, our youth have their role to play as do the elders. We need to work together; avoiding unnecessary in-fighting. Respect for the elders is ingrained the Igbo culture. The axiom,"Nwata si nnia na nya buya uzo muta di okpala, onye buzi nnia", Nwata bunie nnia enu, ngwongwo na ngwongwo ayachie ya anya"