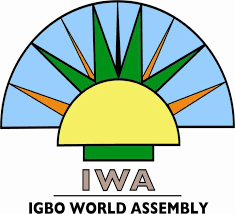 For the Ohanaeze Ndi-igbo to have enhanced viability and true freedom to broker the proverbial "Igbo agenda", their funding should come directly from Ndi-igbo from across the globe and not from governments; State, Federal and or otherwise.
Igbo World Assembly (IWA), is herewith, expressing its discomfort at the worsening security situation in Alaigbo and Nigeria. It is on that ground that IWA had no choice than to urge all the towns in Alaigbo to set up a vigorous and robust vigilantes' outfit to guard every part of our areas. We support civil defense in every part of Alaigbo in anticipation of nefarious activities in their respective areas of concerns.
In short, we support town/village vigilantes' groups in the absence of genuine protection of our security and livelihood. We support our Town Unions vigilantes, our state Ebubeagu and Eastern Security Network (ESN). They should all need to work together for the progress of Alaigbo. We need to avoid infighting between Ebubeagu and Eastern Security Network (ESN)
It's high time the various leaders; home and abroad, lobby politicians, congressmen/women, governments in every country and international world body (Africa Union (AU), United Nations (UN, European Union (EU) everywhere that matters about Igbo interests and the plight of Ndiigbo in Nigeria.
IWA concurs with popular Igbo cliché, "Akulueuno" in advocating for "all points bulletins" approach to economic development in Alaigbo from agriculture, tourism, investments, industries, innovation and technology. A full-fledged "Think Home Philosophy" that extends to agriculture, food security and sufficiency and Igbo made products such as Aba made, Onitsha made or Nnewi made or Igbo made.
We have Igbo landing in Georgia USA, Igbo village Museum in Virgina, about 50% of African American are Ndigbo. Most of Caribbean's island dwellers are Igbo as well as Jamaica, Belize, Cuba, Haiti, Saint Vincent, Barbados, Bahamas. Central American countries Honduras, Costa Rica, Ecuador, Panama. These people are anxious to reconnect with their ancestral homes, mostly in the South-Eastern Nigeria. let's welcome them back home through travel and tourism; a two-prong approach to humanity and economic development. Akanu Ibiam International Airport in Enugu will play a vital role in accomplishing this goal.
Opportunities abound for Ndi-igbo to promulgate Igbo culture and language and Arts on a worldwide stage by way of Igbo schools in America and across, as in Diaspora. Notable are the Igbo schools in Atlanta re Atlanta Igbo schools and PILA Igbo schools designed to achieve this goal.
It is the general opinion of the Igbo Diaspora, IWA that Igbo youths have been taken for granted for years especially, in the underdeveloped and less privileged areas. coincidentally, future of Ndi-Igbo advancement in terms of Economic, Social, Education, Cultural, innovation and technologies are in their hands. The youths therefore, must be at the center of the proverbial Igbo agenda. Our agenda for youth in turn must start with character education; remolding our youth for future ethical leadership as the workforce and leadership of the future with vocational trade and skills acquisition; the cornerstone for self-sufficiency.