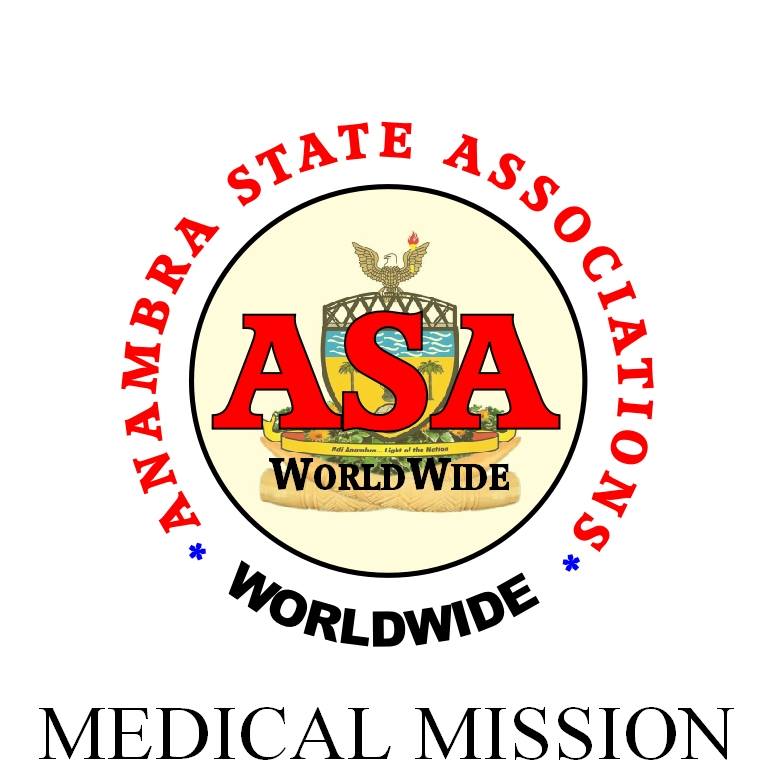 ASA-WORLD will be embarking on a medical mission to Anambra State from July 6, 2015-July 14, 2015.  All Anambra indigenes from across the globe, over 27 member organizations are working in concert with Global Healthcare Foundation, Med Point Management, Stevenson Orthopedic Medical clinic and other Stakeholders who believe that anyone living in Anambra and surrounds with medical need, should have access to

free

and or

affordable

medical treatment are the driving force behind this Mission. 
Ladies and gentlemen ASA-World's call for well-wishers, philanthropists, brother's keepers, and all stakeholders to pay it forward is gaining tractions. Our partners in service organizations, well-wishers, community supporters and all around good people are answering our calls to support this noble initiative. In other words, they are "paying forward" their blessings by giving back to the community and  I am happy to say that their donation have added much needed oomph to our spirit, not to mention our ability to purchase medication and surgical supplies that are needed to carry out an effective mission.
WHY YOU SHOULD SUPPORT THIS MISSION

:
It is an exciting opportunity to "pay forward", the blessings that you have enjoyed in the past years.
The success of this free Mission and many of our initiatives in the past have depended heavily on the kindness of people like you who saw the value added to our "think home philosophy". Visit ASA-World at www.anambraworldwide.org for an overview of our activities as our brother's keepers since our inception in 1999.
Your name(s) will be read and credited for your support at the respective and or the specific town of your interest

ASA-World is now a for section 501(c) (3); making it possible for contribution(s)/donation to be credited back to donors by way of tax receipt/credit as approved by the US Internal Revenue code.

Because we are anticipating that thousands of patients will present with variety of inconceivable illnesses, and because we will be giving

free

medical treatment to the poor and usually marginalized, your supports gives a chance to those who otherwise ,would have to spend their life saving for a visit to the doctor.
Donors below and other like them make our mission possible:
Med Point Management, Dr NA Anakwenze's business affiliates and friends $5,000.00

Chief Pius Okafor (ASA-USA Board Chair) $500.00

Dr David Kheradyar of Synapse Neurology INC for the sum of $100.00  

Helmi Ibrahim, Cardiologist  $ 250.00

ASA-South Africa $ 2000.00

  Dr. Donald Stevenson of Stevenson Orthopedic Medical clinic $1,000.00

ASA –Japan $ 2000.00

 Dr. Randy Hawkins, a Pulmonary/Lung Specialist$500.00 

Synergy Hematology–Oncology Medical Associates $360.00
To donate from North America, contact the contact(s) on the list below or our Adora Chukwuma Financial Secretary at  nkyada@aol.com